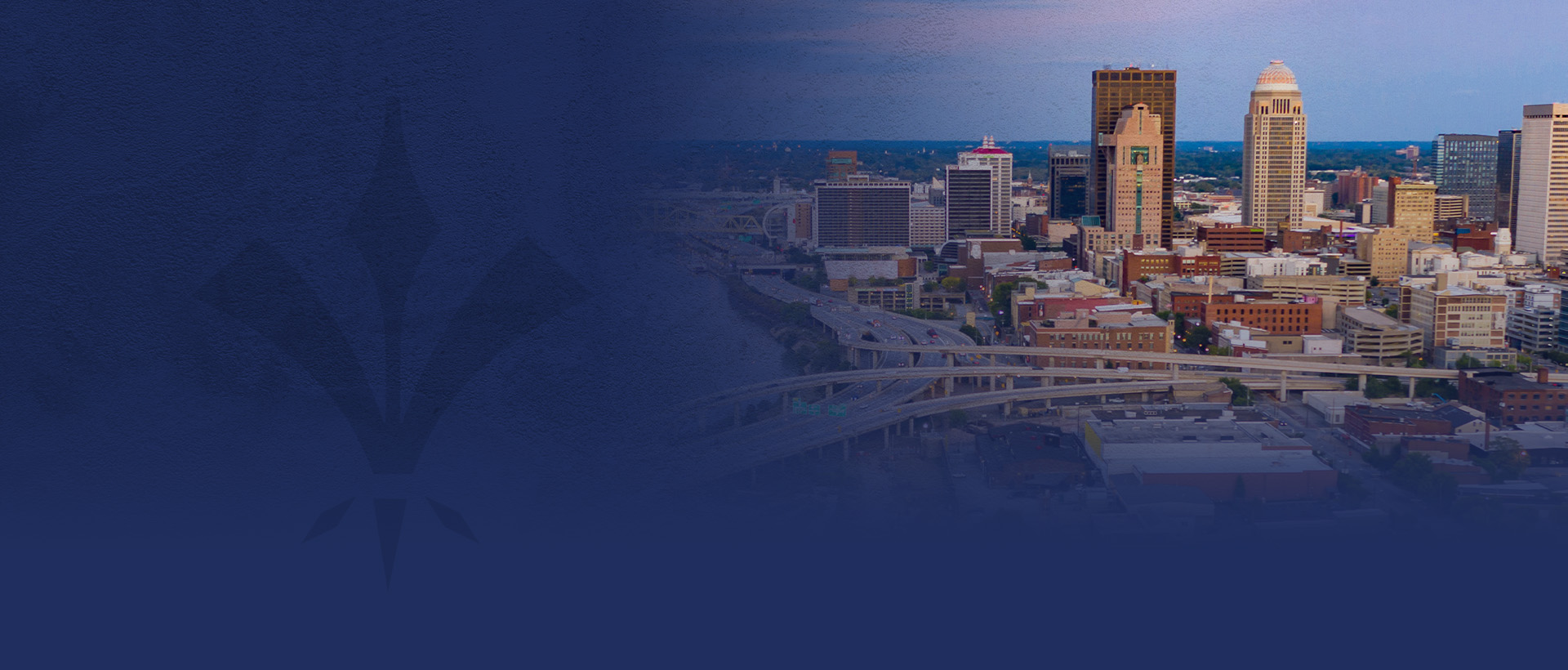 Dedicate Your Time to Healing
Get Assistance From Our Dedicated Personal Injury Attorneys
Louisville Personal Injury Firm
Serving Clients in Jefferson County, Floyd & Clark Counties & Southern Indiana
Sustaining injuries due to the negligence, carelessness, or deliberate actions of others can throw your life into chaos. The aftermath of a personal injury accident or incident can leave you with spiraling medical expenses, lost wages or income, pain and suffering, emotional trauma, and more.
For those who have suffered the most severe injuries, you may be facing a permanent disability that could reduce or even end your life's earning capacity and require major readjustments to your everyday activities.
This is a bitter pill to swallow for most individuals and their families. The injustice of having to deal with the destructive physical, emotional, and financial fallout of such injuries can be overwhelming.
It demands experienced and skilled legal help if you wish to recover the compensation you need and deserve under personal injury law. At Schuler Law Office, we understand what you are going through.
We have been fighting for our clients for decades. Founding attorney David Schuler has been practicing law since 1996; our team brings compassion, care, and a personal connection to everyone we represent.
Testimonials
Committed to Excellent Client Service
Want to better understand why you should choose Schuler Law Firm for compassionate and dedicated personal injury representation?
Read what former clients have to say about their experiences with our Louisville team of skilled personal injury attorneys.
---
If you're interested in talking to a Louisville personal injury attorney, give us a call at (502) 532-2815 or send us a message online today.
---
"David went above and beyond to help me with my case. He was very thorough and compassionate in regard to my well-being. He was more concerned with me than making a dollar for himself."

- Belinda S.

"My husband recently passed unexpectedly and Justin has been very helpful in handling his estate. He has been very responsive to my emails and all my questions."

- Catherine T.

"When I needed to reach out to an attorney I am so very grateful to have chosen this office. David himself called me back right away and was so very nice and helpful. I can't say enough about this office."

- Stephanie D.

"Both Dave and Justins' experience in the courtroom and ability to work with clients helped me understand my individual case, make informed decisions, and ultimately resulted in the most advantageous outcome for my case."

- George A.

"This firm has experienced lawyers who are professional and aware of all the laws that govern our state! They are nice, well-informed, and hardworking! David Schuler is one of the best in town, if not the best!"

- Joe B.
Cases We Handle
Handling All Aspects of Personal Injury
The types of cases we handle at Schuler Law Office include:
We have the professional experience you need, backed by 60 jury trials conducted in the past. We also have the advantage of time spent representing those accused of injury liability and their insurers.
This prior defense work has given our firm a unique insight into how our opponents will work to delay, reduce, or deny their responsibility in injury claims or lawsuits.
As a result, we can counter their moves with aggressive, thorough, and well-prepared claims seeking the justice you deserve. We are never afraid to take your case to trial if that is the best way to pursue full and fair compensation for your damages and losses. Our firm has the time and the resources to do so with commitment and tenacity.
About Louisville
Louisville was first founded in 1778 and named after France's King Louis XVI for his initial support in the Revolutionary War. The city was also an important site for the Union side during the Civil War.
While Louisville began as a small city, it was a leader in the political field as the first city in the country to introduce the secret ballot. It also became a popular stop in Kentucky with the advent of the steamboat in the 19th century.
The city now has a population of 618,733 residents and is home to eight National Historic Landmarks, including the Belle of Louisville and the Churchill Downs' Twin Spires. It also sits right across the river from the Falls of the Ohio.
There is no shortage of historical sites to see and things to do in our booming city, and we are proud to represent the residents of Louisville.
Contact Schuler Law Office online or at (502) 532-2815 for a free consultation with one of our injury lawyers in Louisville about your case. Spanish language services are available.
Who We Are
A Dedicated Team of Award-Winning Attorneys
David Schuler

Founding Attorney
Dedicate Your Time to Healing
Dealing with an injury is stressful enough. You shouldn't have to drain your bank account to pay for someone else's mistake. If you were injured due to someone else's negligence, it's important you reach out to a 
personal injury attorney
 right away. Schuler Law Office offers legal representation for clients in Louisville, KY, and surrounding areas.
Not Afraid To Take Your Case To Trial

If needed, we are not afraid to take your case to trial. As a former prosecutor, our founding attorney understands how the other side thinks and has the resources and dedication to take the case as far as needed.

Personal Approach to Personal Injury

Our team of attorneys takes your personal injury case, personally. We work directly with you to understand what your goals are and how best to obtain them.

Commitment to Excellent Legal Service

Our firm strives to be accessible, detailed oriented, and available to help you with all aspects of your case. We focus on the details so that you can focus on your recovery.

Decades of Dedicated Legal Counsel

Our team of attorneys has over 35 years of combined legal experience and has the skills, resources, and knowledge to effectively and aggressively advocate on your behalf.
Work With Our Team
Free & Confidential Consultation
Learn how our injury lawyers can help you combat insurance company tactics designed to pay you as little as possible on your claim. Call us at (502) 532-2815 or send us your contact details in the form below.
Do I need an attorney to file a car accident injury claim?

You do not need an attorney to handle your claim. However, if you were injured and have accrued medical expenses, the potential for future medical expenses, have missed work, have experienced pain and suffering, and/or have suffered damage to your vehicle, it is widely recommended that you have legal representation. Having a professional on your side to take care of all of the details of your claim will put you in the best legal position possible for negotiation or litigation purposes. It is a well-known fact that injury victims with representation obtain better results in claims than those who try to manage the process on their own.

Should I talk to an insurance adjuster about my car accident or motorcycle accident claim?

We recommend that you do not. While these individuals may sound friendly and accommodating, it is important to remember that they do not work for you; they work for their employer. They have been trained to interact with you with one goal in mind: to limit their payout or deny it altogether. We recommend that you do not make any recorded statements, do not agree to any settlement offer, or sign anything provided by an adjuster. Your first step should be to discuss your case with one of our

personal injury

attorneys to get proper advice about what is best for you, not what is best for the insurer.

Should I get medical attention after a car accident even if I think I'm okay?

Injuries from

cars

,

motorcycles

,

trucks

, and other traffic accidents may not manifest right away. They often do not show up for hours or even days after an accident. That is why we recommend that you seek treatment as soon as possible following an accident. That way you will be advised of what to expect will receive proper treatment and/or instructions as to what to do and will establish a medical record that can be used to support your claim. More Questions Concerning Accident Claims & Lawsuits

What should I do after a motorcycle accident?

Assess your situation to determine if you are in harm's way or seriously injured. If possible, get to safety after which you can call 911. Don't remove your helmet if wearing one or other protective gear. Wait for medical personnel to arrive so as not to aggravate any possible injuries you may have. Even if you believe you are not injured, it is recommended that you be checked out by a doctor. At the time of the accident, if possible, gather as much evidence as you can. This can include photos, police reports, and insurance and contact information of the other driver, as well as the contact information of any witnesses. Call Schuler Law Office as soon as you can to get advice and counsel.

These same steps apply to car accidents, truck accidents, and any other type of traffic accident.