About Us
Focus on Your Healing. We Will Handle the Rest.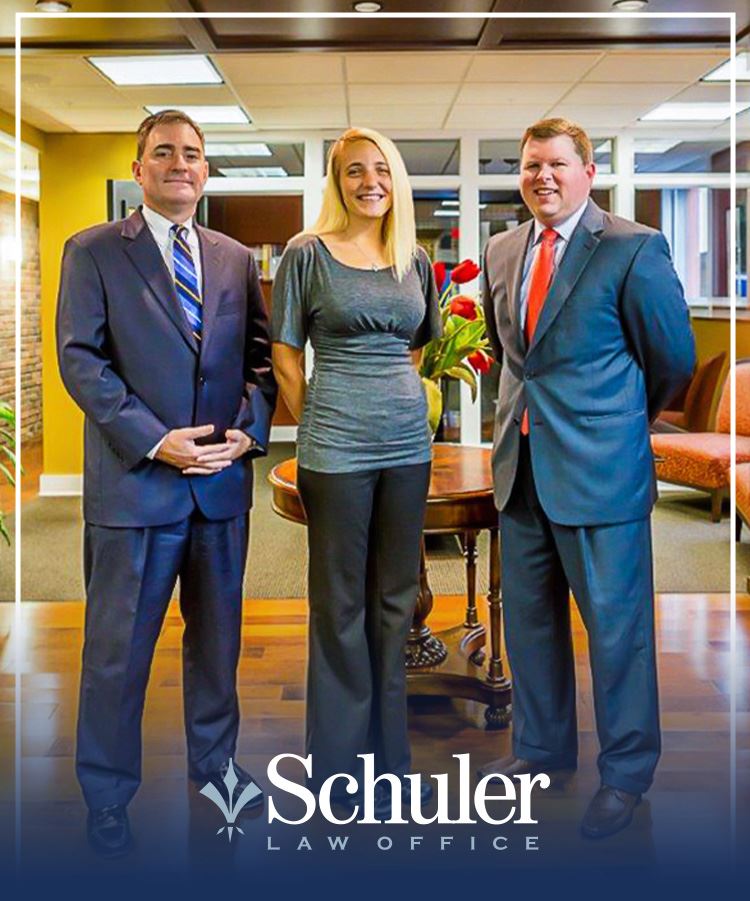 About Schuler Law Office
Located in Louisville, Kentucky, the Schuler Law Office has earned a reputation for providing high-quality, innovative legal representation in personal injury and car accident cases for clients across Kentucky and Southern Indiana. Attorneys David M. Schuler and Justin P. Gooch are skilled litigators and negotiators who are committed to doing everything they can to help their clients seek fair compensation for their injuries. Their experience can help position your case for success.

The attorneys at the Schuler Law Office will do everything they can to ensure that their clients' rights are protected through every phase of the legal process. Our firm values our client relationships and we're committed to providing honest, affordable legal services to people when they need them most. If you're looking for trusted legal counsel and representation for personal injury or civil litigation cases, the attorneys at the Schuler Law Office are here to protect your rights and serve all your legal needs. To learn more about the team of attorneys at Schuler Law Office, check out our digital flipbook that Attorney at Law created to highlight our office.
Reach Out to the Schuler Law Office Today
Whether you've been the victim of an accident and are dealing with severe injuries, or you're involved in a civil litigation case and are looking for an experienced and dedicated trial lawyer to advocate for you, the attorneys at the Schuler Law Office are here for all your legal needs. With extensive experience in both state and federal courts, our attorneys can make sure that you're prepared to face any challenges that the opposition may throw at you.
Request your initial consultation by calling our office at (502) 532-2815.
Meet Our Team
Working Justice for You
Representing Clients with Empathy & Passion
Providing One-on-One Attention
Whether you've experienced a devastating injury from a car, truck, or motorcycle accident, or you've suffered injuries due to the negligence of another, we're here to help you seek the justice you deserve. At our firm, we understand the physical, emotional, and financial challenges that a significant injury can present. That's why we believe that our job is to not only help provide you with legal counsel and guidance but to also provide our support so that you can focus on what matters most - recovering from your injuries and getting your life back.
The Schuler Law Office is here to provide help and support for injured victims across Kentucky and Southern Indiana - and we won't back down fighting for your rights.
Unlike other larger firms, we're committed to providing personalized service tailored to your individual needs. When you work with us, you won't have to worry about your case being passed along to someone else. We'll work with you from start to finish.
Service You Can Count On
We understand that legal issues can be stressful. That's why we go to great lengths to make ourselves available to our clients whenever they need us. We're here to help answer questions and address any concerns that you may have at any point.
Skilled Courtroom Litigators
While most people try to avoid going to trial, we understand that oftentimes fighting for our clients in court is the only way to ensure that they get the justice they deserve. Whatever challenges you're facing, we'll make sure you're prepared at every turn.
If you or someone you know is looking for experienced legal counsel you can trust, call the Schuler Law Office at (502) 532-2815 today.
Our Wins
Over Millions Recovered for Those Injured
While guarantees of specific case results cannot be made, past results provide you with an indicator of the quality of representation you can expect. See what Schuler Law Office has done for others who have entrusted us with their personal injury cases.
$3,250,000 Wrongful Death

Schuler Law Office recovered a favorable outcome In Floyd County on behalf of the family of an Indiana man who died in a head-on collision while driving home from work.

$1,500,000 Life-Altering Injuries

Schuler Law Office recovered a favorable outcome for an Indianapolis woman who endured life-altering injuries when the vehicle in which she was a passenger was struck from behind by a commercial vehicle.

$910,000 Wrongful Death

Schuler Law Office obtained a favorable outcome for a Louisville family whose husband/ father died when the vehicle in which he was a passenger crashed into an ambulance.

$750,000 Critical Injuries

Schuler Law Office recovered a favorable resolution for a 9-year old pedestrian who was standing on a Louisville sidewalk waiting to board a school bus when he was struck by an SUV, causing critical injuries.

$490,000 Permanent Injuries

Schuler Law Office recovered a favorable resolution for a Louisville man who sustained permanent injuries in a head-on crash caused by an intoxicated driver.
Contact
Don't Wait. Put Our Experience on Your Side.
At the end of the day, we realize that your legal struggles can be overwhelming. The good news is you don't have to face these challenges alone. Our firm is here to provide you with personal care and responsive service that will ensure your needs are taken care of throughout the legal process. With a practical approach and aggressive legal representation, we can help make sure you have every chance at achieving a successful outcome for your case.

Ultimately, we know that choosing the right attorney is one of the most important decisions you will make. You'll want to choose an attorney who not only has the knowledge and skills to help you navigate the legal system, but one that can also be honest and upfront with you about your case. At the Schuler Law Office, we strive to provide all the above to our clients in the hope that we can alleviate some of the stress you're under and help you look forward to a brighter future.